In the Phoenix real estate market, real estate agents continue to turn buyers away from homes with solar panels. Agents are not the sole source of angst for Phoenix solar home owners for there are five areas that a solar home seller needs to address in order to successfully sell a solar home and the simple solutions to overcome those issues:
1. Buyers. For some, especially a solar home seller, the idea of having solar is a no brainer; however, not everyone wants solar. Typically this is a result of ignorance and lack of information from the seller's Realtor that fails to demonstrate the benefits and advantages of having solar. Far too often, a buyer doesn't want to get stuck with someone else's mistake (aka Greater Fool Theory). There are too many anecdotal stories on the internet about bad solar leases or unfounded worries about maintenance and upkeep.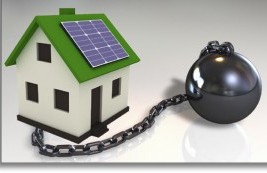 2. Buyer Agents. Believe it or not, some real estate agents will stay away from things that they do not understand. Agents fear complicating the process with solar transfers and sticking their buyers into long term contracts that they do not understand, especially if they cannot explain it to their buyers. When faced with questions about what is net metering or even what is the difference between a kilowatt and a kilowatt hour, the buyer's agent does not want to look bad in front of their client or cloud the process with misguided judgments and opinions.
3. Solar Leases. The vast multitude of solar home sales involve some sort of solar lease (roughly 2/3rds of the total solar home sales in the Phoenix area). There are some solar leasing companies that instantly cause agents to cringe, since they are known to take WEEKS to complete a simple transfer, potentially delaying the closing. Lease transfers typically require listing agents to wait on hold to talk to customer service rep after customer service rep, ensure the buyer fills out the credit application, and oversees the removal of the UCC-1 filing against the title of the home. Buyers may not even qualify due to credit requirements or buyer's find out after a contract has been accepted that the lease requires an escalator clause (one where the monthly lease payment increases a small percentage each year) or other terms that they were not aware of. The listing agent is the key to making sure that the lease transfer goes smoothly which usually starts before the home is even listed for sale.
4. Solar Loans. Often confused with solar leases, solar loans through companies like Mosaic, Sunlight, Dividend, and Enerbank for example. Unlike leases, solar loan payments count against a potential home buyer's qualifying mortgage ratios and could limit the number of potential buyers that barely qualify to purchase the home.
5. Appraisal Problems. It is not uncommon to see a home appraiser give a solar system on a property only $1,000 to $2,000 in added value on the appraisal. Often this is the result of one of two reasons: 1) the appraiser was not experienced in valuing homes with solar and 2) the appraiser was not given adequate information to make that determination. For sellers that have spent tens of thousands of dollars on their system, they expect to see a bump in value due to their solar systems.
Solutions:
1. Hire the right listing agent. The listing agent should be able to communicate the benefits of solar, handle the lease transfer with minimal delays, educate both the buyer and buyer's agent about the details of the solar, have a marketing plan specifically to address the solar, and know how to work with the right appraisers to maximize the value of the solar. Failure in any one of these areas can result in delays, buyers backing out due to a lack of understanding, and appraisal coming in lower than anticipated.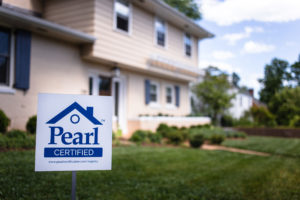 2. Have your home certified through a third party solar certification system. Companies like Pearl Home Certification provide detailed information and resources that the seller can use to market the benefits of the home and they even provide an Appraisal Institute authorized Green and Energy Efficient Addendum (form 820.05) that appraisers can use to properly appraise the home.
3. Have your solar information available. Agents need to know what you have, including cost, equipment data and warranties, solar production data, and utility bill information. The size of your solar system (i.e. how many kilowatts it has) as well as how much energy it produces (i.e. how many kilowatt hours it produces a year) can go along way in providing some information about the benefits of your system. Additionally, be sure to provide any information about net metering, grandfathered rate plans, and extended warranties that can be used in the marketing and education to and of the buyer.
4. Include an educational component in your sales marketing. Assume that the buyer and the buyer's agent know absolutely nothing about solar. Include topics about the simplicity of solar energy production, the ease of maintenance, and how solar saves money in both the short and long term are crucial to overcoming many of the long standing opinions that negatively affect the buyer and buyer's agent.
Far too often home sellers rely on the inexperience of their listing agents to get the job done, settle for lower prices because the buyer wants a lower price because of the seller, and grow frustrated and the headaches that a poorly handled lease transfer can cause. Failing to prepare is preparing to fail. Having a listing agent with strong solar credentials, and robust plan for solar (including educating the buyer, marketing the benefits, and ability to work with the appraiser) are critical to selling a solar home. The Phoenix real estate market continues to transform with more and more solar homes for sale and the success of these sales lie with the listing agent.