Having solar on a home adds an additional dimension to the pricing conundrum that a seller facings when deciding to list and sell their solar home for sale in the Phoenix area. Does solar increase the value of a home and can I reflect that additional value in the list price of the home? If I price my home higher because of solar, will buyers look at my property when the same model could be for sale down the street at a lower price because they do not have solar? Does it make a difference in my properties value if I have a solar lease instead of owning the panels? In this article, we will cover the topic of how to price your home, factor in the influence of solar panels on value, and discuss other factors that will influence the value of your home.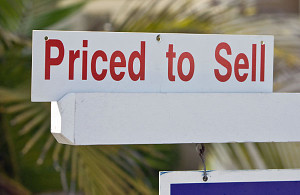 Most home buyers in today's real estate market search for a home based on a two tier priority system. The first tier focuses the home buying search on primary factors that motivated the buyer to begin the search in the first place. First tier variables that a buyer focuses on includes the buyer's ideal price range, the location, and basic features and amenities of a home (i.e. size, number of bedrooms, number of bathrooms, garage size, etc). Typically first tier variables are factors that a buyer is not willing to compromise since they meet the basic needs of the home buyer. The second tier variables that a buyer will consider are more subjective and tend to be less rigid. Second tier variables include room sizes, types of countertops, pool, lot location, solar and energy efficiency items, floorplan layout, number of stories in a home (though this can be a first tier variable for certain home buyers), and other minor variables that can influence the buyer's decision to make an offer or not. Typically second tier variables are weighed in conjunction with first tier variables in the sense that if a home meets all of the basic, first tier requirements, a buyer will compare homes to purchase based upon how many of the second tier variable a home provides over other competitive homes for sale.In order to sell a home, a buyer and a seller must agree upon a price – usually it is a price higher than the buyer would like to accept while reflecting a price lower than what the seller would like to receive. In the Phoenix area, the average sales price for a solar home is approximately 99 percent of the asking price (e.g. if a home is on the market for $100,000, the buyer and seller agree to a price of $99,000). The mutually agreed upon price is usually the result of a lower than asking offer by the buyer and the seller countering the buyer's offer with a higher but less than asking price counter offer. After a little back and forth between the buyer and seller, a price is agreed upon.
Even after a price is agreed upon by a buyer and seller, the reality is that 75 percent of the solar sales in the Phoenix area are financed with a mortgage loan which means an independent property appraisal is required by the lender before they will consent to the deal. Appraisers will compare the property against recent home sales, factoring in the differences of size, features, amenities, and other variables that affect the value to determine the home's appraised value. For solar homes, appraisers have new forms that they include in their appraisals to help evaluate the increase in value that solar may on the solar property.
When determining value for a client, I look at a home's value based upon the two differing perspectives that my client will face – 1) the buyer and 2) the appraiser.
As a home seller deciding where to price your home for sale, think like a buyer. Since buyers are out in the market looking at homes in the neighborhood, it is important to know what your competition is like. How do these homes compare with yours? Are prices higher than you anticipated? Are they remodeled nicer than your home? Are there any factors with your home that the other homes do not have? While solar is probably one of them, other factors could include backing up to a busy street, larger lot size, or other features and amenities that could help or hurt the value of your home. More importantly, figure out where your home will fit among the competition. Is it top of the market or will it be more of the lower range of the competition? Buyers will make a mental determination on where your home ranks among the competition and factor their value for the home based upon how well it ranks among the other homes for sale. If the buyer sees value, they will give it more value and vice versa.
While buyer reaction is crucial in determining how much showing activity the house will have and how close to the asking price they are willing to pay, buyers will not realistically pay more for a home if the appraiser comes in with a lower value than the sales price. There are exceptions to this rule but keep in mind, you probably are not one of them. Appraisers will take a more analytical approach to valuing a home, primarily by looking at recent sales comparables. A sales comparable is a similar home in shape, size, features, and amenities that has sold within the last 3 to 6 months, depending upon how active the real estate market is. Appraiser will try to use sales comparables from within the neighborhood as well as outside the neighborhood. The trick to an appraisal is how the appraiser adds or subtracts value for differing features and amenities of your home when compared to other sold properties in the area. For example, an appraiser will give your home additional value if you have a sizeably larger lot than the rest of the sales in the area or may decrease the value of your home if you only have 1 bathroom while the other homes in the area have at least 2.
When trying to determine value for your home, view recent sales in your neighborhood as an appraiser would. Are the recent sales similar in size, age, condition, and amenities? Are you looking at sales within your neighborhood as well as outside the neighborhood. Are there any special features to your home that will make it stand out from the other comparables (i.e. solar)? Do these features add value or detract from it? How do these features compare to the other homes that have sold in the area? If everyone has granite countertops, for example, granite probably will not add anything more to the home's value
The biggest challenge a solar home owner has is trying to determine how much additional value solar adds to their home. While it is true that different types of solar have varying effects on a property's value in the Phoenix area, solar is just one of many variables a buyer will consider when purchasing a home.
A solar owned system has the greatest impact on value to a home. Solar owned systems convey with the house and become part of the integrated electrical system to provide free electricity for the homeowner. Variables such as the size of the solar array, age of the inverters and panels, and the efficiency of the solar system to generate electricity will affect how much additional value a solar system adds to the house. An appraiser, for example, should be able to quantify an exact dollar improvement to value based upon data provided about savings, electrical generation, and system specs. It is important to note that many home sellers in the past have not realized the full potential of value that their solar system adds to their home because they hired real estate agents that either were ignorant in how to value a home with solar or failed to provide the home's appraiser with the details and information that would have assisted the appraiser in maximizing the solar's value to the home.
Besides knowing the comparable sales in the area, another key tool is having a complete Appraisal Institute form 820.05, the Green and Energy Efficiency Addendum, filled out. Personally, I have an energy audit conducted on my listings and a report issued through Pearl Home Certification that gives me a detailed 820.05 that I can give the appraiser before the appraisal. This form details specific components and attributes about your solar system AND includes other green and efficiency details about your home.  I am finding more and more solar home owners have spent additional money to make their homes more energy efficient through added insulation, efficient lighting, new AC units, sunscreens, etc that can also add value to the home. Pearl also gives me a great report that details the benefits of the solar and efficiency of the home that I can also use to market your solar home. While there is a hefty upfront cost to these reports, I include them at no additional cost to my clients.
Solar leases do not necessarily provide additional value to a home nor do they lower a home's value in the Phoenix area. Since a solar lease provides for solar equipment to be installed on the home, the solar array is not really a fixture of the property and subsequently cannot provide tangible value during the appraisal process. However, solar leases do provide value intangibly through the additional cost savings it provides to potential home buyers, especially when compared to other homes for sale in the area. In the Phoenix area, for example, we typically see a similar time on the market for solar lease homes compared to the market average. Similar marketing times means that the solar, if marketed right, will have no adverse effect on the sale of your home.
The one exception that I have seen in the Phoenix market are prepaid solar leases. I have sold several homes in the past few years with solar leases that actually provided for a minor bump in additional value on the home's appraisal. Though this many not be the case in every transaction, there is a case that a seller can make to the appraiser about it.
When figuring out a price to list and sell your home, the process is part science mixed with the art of reading and knowing the current real estate market. If anything you have read from this article, remember the following:
Look for recent comparable home sales. Comparable home sales will be the foundation for determining the value of your home and the more comparable a recent home sale is, the more accurately it will reflect your home's value.
Know your competition. How does your home compare to the other homes for sale in the area? Is it nicer and more desirable or do you have to adjust the value of your home to make it just as desirable as your competition. However do not confuse their asking prices for a sales price. A seller can ask anything he or she wants to sell a home for but that does not mean a buyer will pay it.
Form 820.05 and Pearl Home Certification. Have the additional third party tools that detail ALL of the green and energy efficiency benefits that you have invested in. There is value in these improvements only if you are able to properly communicate these things to both your home buyer and appraiser.
Be competitive. While it is easier to lower a price than to wish that you had priced a home higher, be competitive and realistic with your home's price. Long market times can sometimes stigmatize a property and end up costing you more in a lower price than if a home was price right the first time.
Think like a buyer. Ultimately it is the buyer that is going to make the decision to purchase your home. Pricing is a critical primary variable that a buyer will use to determine if he/she sees value in what you have to offer for sale.
If you have any questions on the value of a solar home in the Phoenix area, give the Solar Home Broker a call at 480-888-1234 and let's talk.