Phoenix solar home sales statistics for 2020. Solar homes in the Phoenix area increased over 14% year over year in Maricopa County according to data from the Arizona Regional MLS. There was a total of 4,870 solar homes sold in Phoenix, including homes with both leased and owned solar on the rooftop.

Solar homes accounted for 6.7% of the total homes sold in the Phoenix area, up from the 5.7% we saw in 2019.
The median price of a solar home reached $358,000 for all solar homes.  Homes with leased solar had a median price of $337,250 while homes with owned solar reached a median sales price of $410,000 in 2020.
It took an average of 34 days to sell a solar home (33 for leased solar homes and 35 for owned solar homes) while the market average throughout the year was 32 for all real estate in the Phoenix area.
61% of the total solar home sales in the Phoenix area were homes with leased solar while owned solar accounted for the remaining 39% of the solar home sales in 2020.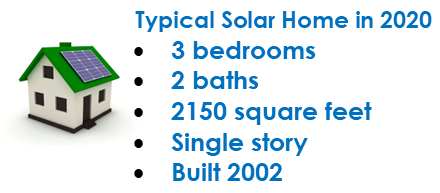 Download a PDF version of the Phoenix Solar Home Sales Market Report by clicking here.
Rob is Phoenix's first solar home broker that specializes in the sale of solar homes throughout the Phoenix metro area. As a multi-million dollar solar home sales specialist in the Phoenix area, Rob has helped countless home owners with the sale and transfer of their solar. He focuses on marketing the benefits of the solar, educating potential buyers (and their agents too) on the ease and simplicity of solar, assists in working with appraisers in determining the right value for a solar home, and understands the intricacies of the solar lease and solar loan transfer process.  With over 26 years experience in the real estate industry and a focus on solar for the last 13 years, Rob has become a local resource for solar homes in the Phoenix area.
For more information, questions or inquiries you can reach Rob at 480-888-1234.